Sri Adichunchanagiri Shikshana Trust (R.) was founded in the year 1974 under the divine leadership of His Holiness Byravaikya Sri Sri Sri Dr. Bala gangadharanatha Maha Swamiji.Following the 'Guru-Shishya' Parampara, his holiness Byravaikya Jagadguru Sri Sri Sri Dr. Bala Gangadharanatha Maha Swamiji, 71st in the holy lineage, who ascended the revered seat in 1974. The benevolent activities of social service gained an accelerated momentum since then.
Sri Adichunchanagiri Mahasamsthana Mutt, with its roots firmly embedded in the folds of time (1500 Years), Space on Rocky hill, 63 miles West of Bangalore, the Capital City of Karnataka, has been working towards the betterment of human life and society.
Sri Kshetra Adichunchanagiri has a history of 2000 years of its existence. It is the holy land engulfed with the divine resonance and vibration. Ancient Vedic culture was founded here on spirituality, where Nature is valued and worshipped. It was Yagnas and prayers that inspired cosmic peace here.
Sri Kshetra is blessed by Lord Shiva. Lord Shiva performed penance at Sri Kshetra, during which he devoured two demons, Chuncha and Kancha, who were pestering elements of the area for a very long time. At the end of his austerity, Lord Shiva entrusted a Siddayogi, establishing a 'Natha tradition' and guided him to disseminate the righteousness in the society.
Lord Shiva also assured to reside in Sri Kshetra Adichunchanagiri, in the form of Panchalingas viz. Lord Gangadhareshwaraswamy, Chandramouleshwaraswamy, Malleshwaraswamy, Siddeshwaraswamy and Someshwaraswamy; of which Lord Gangadhareshwaraswamy is known as the 'Presiding Deity'. Thus, Sri Kshetra came to be known as "Panchalinga Kshetra".
Lord Kalabhyraveshwaraswamy, the manifestation of Lord Shiva, is the 'Protecting Deity' of Sri Kshetra. He extends his grace to all and bestows divine experience and liberation. Goddess Parvathi resides here in the form of Stambambike.
Sri Math serves free food to more than twenty thousand people every day. This feeding programme has earned the Math another name – "Annadani Math".
'Bindu Sarovara' is formed naturally on the middle hill of Sri Kshetra. It is believed that this holy place is formed by the holy water, discharged by the Jata of Lord Gangadhareshwara, who is stationed a few hundred feet high above this lake. Dedicated devotees take a holy dip to dispel their ignorance and accumulated sins.
Sri Kshetra is surrounded by a beautiful forest, which appears to radiate an aura of abiding serenity, spiritual solitude and peace. This area is known as 'Mayura Vana', where enchanting peacocks live freely.
Millions look to this ancient Monastery, for both spiritual and mundane guidance. Apart from teaching spirituality, Sri Kshetra is set out to uplift the rural community through education and healthcare programmes – the two most pressing needs of the society.
Sri Sri Sri Dr.Balagangadharanatha Mahaswamiji
Sri Sri Sri Dr. Balagangadharanatha Mahaswamiji assumed the holy chair of Sri Adichunchanagiri Mahasamsthana Mutt in 1974. Poojya Mahaswamiji was truly an enlightened soul. He treated all the people alike without discriminating on the basis of caste, creed, gender or social status. His approach towards handling different problems was truly scientific and logical. He implicitly understood the importance of education to the masses in alleviation of poverty.
Poojya Mahaswamiji was a great visionary with a perfect blend of science and spirituality. He was primarily instrumental in establishing Sri Adichunchanagiri Shikshana Trust that runs more than 500+ Educational institutions catering for about 130000 students across the country to impart quality education from primary to Professional Courses with a special focus on young people of semi-urban and rural areas.
Mahaswamiji had a vision of serving the humanity in eight fold areas of Adhyathmika (Spirituality), Anna (Free Food), Akshara (Knowledge), Arogya (Health), Ashraya (Shelter), Anukampa (Helping Hands), Aranya (Afforestation), Akalu (Cattle Protection) was exemplary and noteworthy.
Sri Sri Sri Dr. Nirmalanandanatha Mahaswamiji
Poojya Mahaswamiji, unlike many other youngsters, had an inclination towards Spirituality, Science and Service rather than Materialism. He adapted an ascetic life in 1998 and underwent formal training in the traditional knowledge systems. His unquenchable thirst for knowledge is evident from his attitude in conferences and functions wherein he listens to the discourses on Vedas, Upanishads and other Shastras like an eager young student.
Poojya Mahaswamiji, aided by his educational background and interest in Engineering has incorporated Modern Technologies and revolutionized the functioning of all the Institutions of Shikshana Trust. He has taken up the initiative of introducing computerized working environment in all the Academic and Administrative activities of the institutions.
The Vision of Poojya Mahaswamiji is to follow the footsteps of his Guru, working tirelessly to "Preserve, Promote, Pursue and Progress with Passion in the Path of his Patriarch" His Holiness was conferred with "Doctor Honoris Causa" (Honorary Doctor of Science) by the University of Mysore, Karnataka in 2016.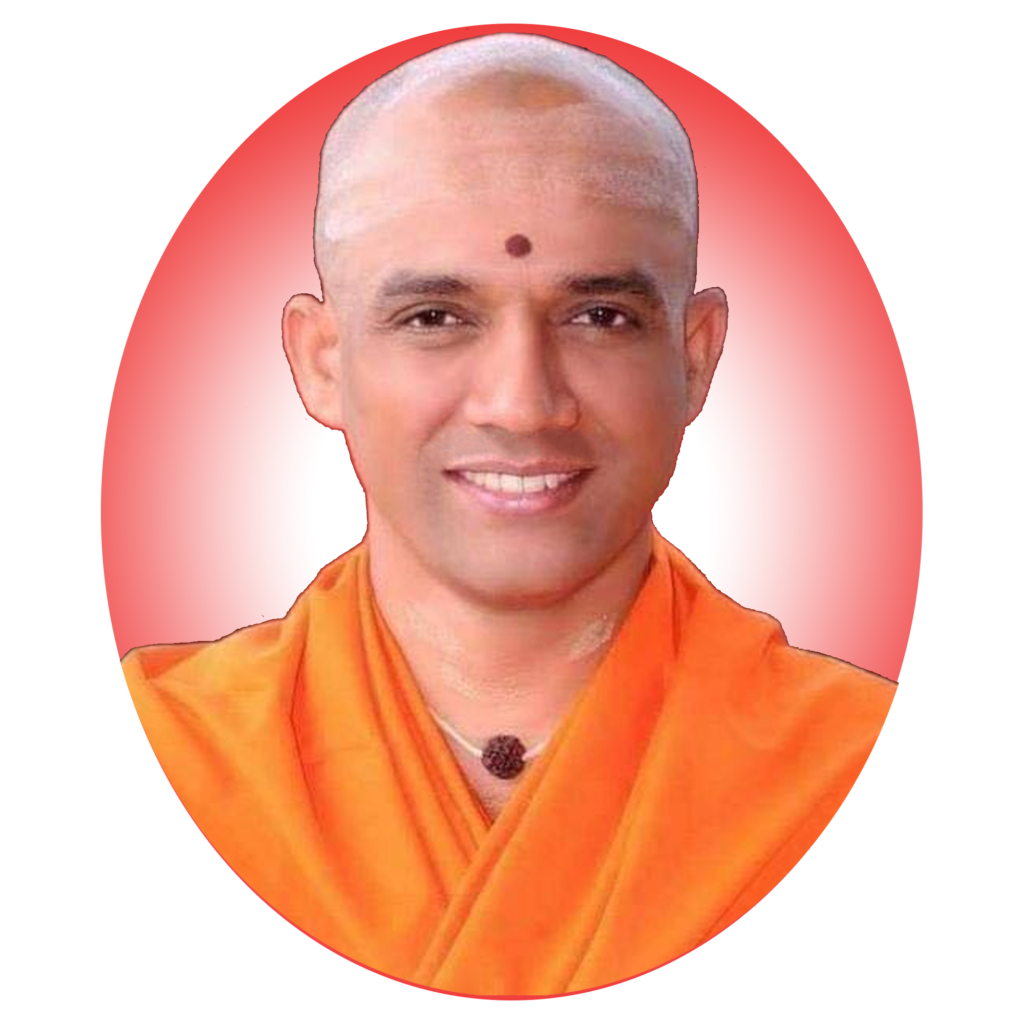 Sri Sri Mangalanatha Swamiji
Poojya Sri Sri Mangalanatha Swamiji has taken Sanyasatva in the year 2005 & been blessed by his Guru Sri Sri Sri Dr. Balagangadharanatha Mahawamiji. He has served Sri Adichunchanagiri Math for more than 34 years. Poojya Swamiji has studied subjects like Advaitha, Vedanta in Sanskrit besides Veda and Aagama and acquired a Post-graduation in these subjects and also a Post-Graduation in Sanskrit. He has been working for the upliftment of mankind in the field of Education, Social Service and Inculcation of Spiritual and Moral values.
In the year 2010, Sri Sri Swamiji was given the responsibility of Sri Chickballapur Shakha Math, situated at Chickballapur which is about 20 Kms from Bangalore International Airport. He has been appointed as the Secretary of BGS Educational Institutions, Chickballapur Branch by Sri Sri Sri Dr. Nirmalanandanatha Mahaswamiji.
Under his stewardship, Sri Adichunchanagiri Shakha Math, Chickballapur galvanized its activities of social service in Chickballapur, Tumkur and Kolar Districts. His knowledge of Sanskrit, Kannada and other languages has made him a great scholar and his discourses are well received. His cool and stable thinking have guided the people of Chickballapur in matters of education, health and moral values.
As a management representative, Sri Sri Swamiji assumes key role in the overall governance of the institution & Articulation of long-term policies by the Management and overseer of policy implementation.